Student Research Day 2016 successful
Student Research Day 2016 successful
June 21, 2016 - The University of New Mexico Nanoscience and Microsystems Engineering Program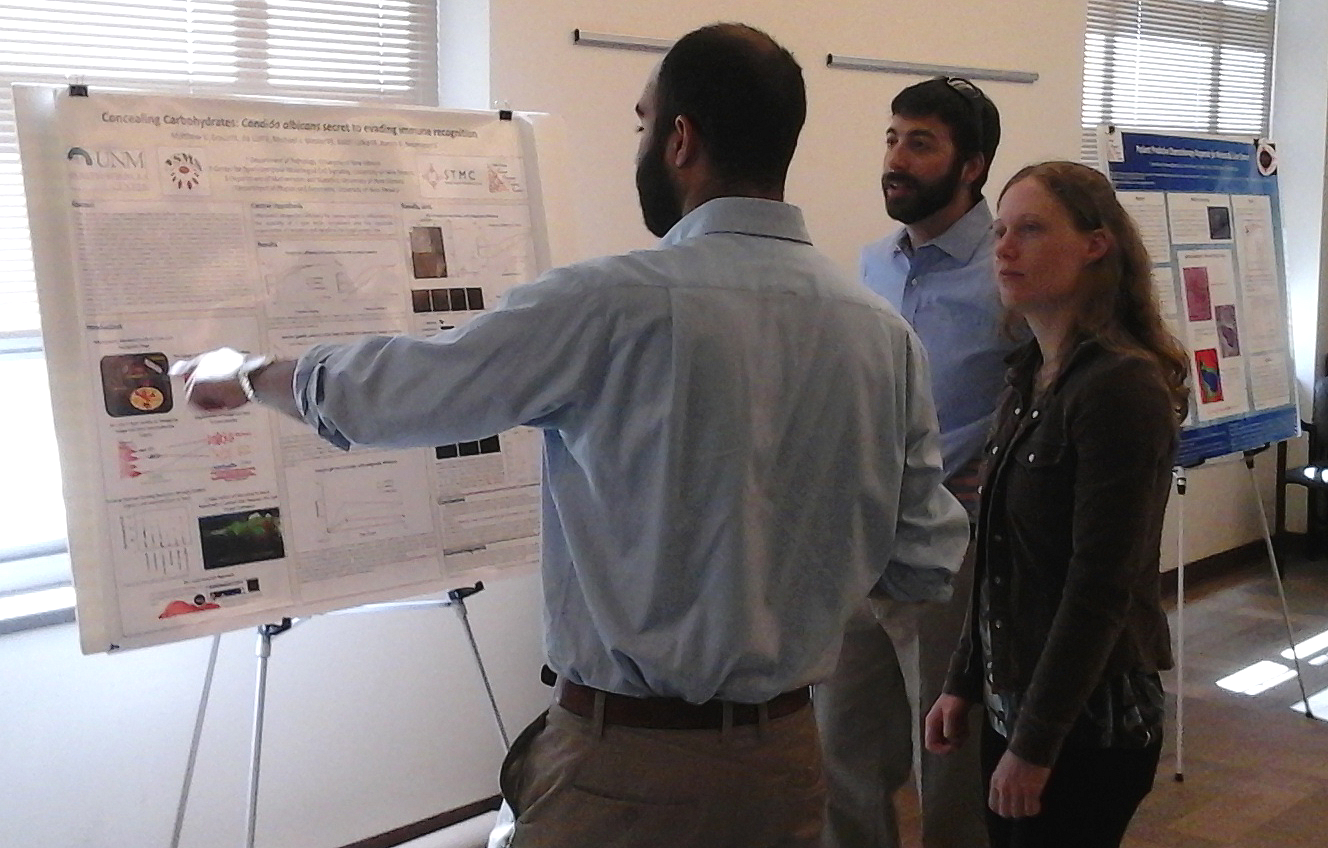 Student Research Day 2016 was a success!
We are happy to announce that the 2016 UNM STEM Student Research Day was a great success! We had excellent attendance and kept the conference presentation room near capacity for most of the day peaking at 38 people for the keynote speaker and headliner for Session Two.
We are very grateful to have had excellent talks from our invited guests, Dr. Ronen Polsky from Sandia National Labs, Dr. Kyle Montgomery from the Air Force Research Laboratory, Dr. Erik Spoerke from Sandia National Labs, and Dr. Gabriel Montaño from Los Alamos National Labs. We would also like to give a special thanks to Gary Oppedahl, Director of Albuquerque's Economic Development Department, for giving the inspiring keynote. We thank all of our invited contributors for donating their time, knowledge, and insight. Research Day was greatly enriched by the combined wisdom they provided. We are also in debt to the student contribution. Graduate students from several science and engineering departments presented high quality research in conference-style oral presentations and conference posters over the course of the day. We also had a "lightning talk" to demonstrate the short-form communication of research ideas.
The day kicked off with Session One: Characterization in Nanosciences. Laying the foundation for the topic, Dr. Ronen Polsky spoke in the morning about his work with microneedles and electrochemical biosensors. The session was closed by Dr. Kyle Montgomery with a discussion of his research into the application of ultra-high efficiency multijunction solar cells in the space environment. Student talks in this session were given by Ranjana Dangi, Hanieh Afkhamiardakani, and Saeid Rostami.
The poster session occurred over lunch, and we had a full room of posters contributed by Saeid Rostami, Hanieh Afkhamiardakani, Antonia Duran, Jonathan Paul Gordon, Jianzhong Yang, Sadia Kabir, Barnaly Rashid, Raviteja Vangara, and Kent E. Coombs. We returned to the conference room after lunch to hear the keynote. Director Gary Oppedahl spoke about opportunities and connections in Albuquerque for entrepreneurs from science, technology, and engineering. Gary inspired and encouraged us to take our science from the lab to the community to help build Albuquerque's burgeoning industrial scene.
The headliner for Session Two: Bottom-up Chemistry and Materials, by Dr. Erik Spoerke, was next. Dr. Spoerke talked about a wide range of technologies from nanomaterials, to electrochemistry, to supramolecular assembly of bio-analogs. To our delight, there was great synergism between the keynote and Dr. Spoerke's talk. Both speakers were energized and engaging, and the back-to-back topics of technological applications and opportunities for science entrepreneurs made for a good combination. This laid the groundwork for our student talks which were provided by Robert Malakhov, Sadia Kabir, and Raviteja Vangara. Session Three: Tissue Engineering and Biomaterials was headlined by Dr. Gabrial Montaño who spoke on his work in membrane-based assemblies and synthetic membrane-based nanocomposite assemblies with energy capture applications. We had a large student contribution to this section, with talks provided by Kent E. Coombs, David Santistevan, Matthew N. Rush, Barnaly Rashid, and Terisse Brocato. We also had the bonus addition of a lightning talk about wafer processing and manufacturing by Teressa Specht.
Faculty volunteers judged the oral and poster presentations. We would like to congratulate the following award winners, as determined by the faculty.
Oral Presentations
1st Place - Matt Rush
2nd Place - Kent Coombs
3rd Place - Saeid Rostami
Poster Presentations
1st Place - Omar Abudayyeh
2nd Place - Nadia Fernandez-Oropeza
3rd Place (tie) - Sadia Kabir and Barnaly Rashid
We are grateful to the faculty who volunteered to judge. They committed a great deal of time out of their Saturday. Their tenacity and attention ensured that the awards were distributed fairly. We thank Sang M. Han, Sang Eon Han, Steve Cabaniss, Steve Graves, Eva Chi, Elizabeth Dirk, Abhaya Datye, and David Whitten. We also thank Dr. Erik Spoerke for remaining after his talk and committing time to judge as well. In the spirit of Research Day, Dr. Spoerke remained very involved and interactive for the rest of the event.
Research day would not have happened without the support of our sponsors. We are greatly in debt to the following departments for contributing financial backing to our project which made the day a success:
Nanoscience and Microsystems Engineering Program
Chemical and Biological Engineering
Chemistry and Chemical Biology
Biomedical Engineering
We look forward to seeing everyone again next year for the 2017 UNM STEM Student Research Day! (Tentatively scheduled for February 2017).