Jonathan E. Dorsey
Contact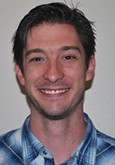 NSME GSA President 2016
Adviser: Andrew Shreve
Education
Professional Science Masters, Nanoscience, The University of New Mexico, 2012-2013
Bachelor of Arts (BA), Biochemistry, Colorado College, 2007-2011
Biography
Multicomponent microenvironment sensing is crucial to a wide variety of industry and academic fields from industrial reactors to academic cell research. Real-time spatially resolved remote sensing methods are particularly powerful for investigations in a biologic context, especially targeted towards cellular metabolism. I have investigated the use of self-catalyzed magnetically guided micromotors for a 'capture and detect' method of direct separation of a target analyte using functionalizable surfaces. Fluorescent core/shell nanoparticles, also known as Cornell dots, are being used as the base for liquid phase detection of pH, partial pressure of oxygen and carbon dioxide with customizable surface chemisty. Surface-enhanced Raman spectroscopy is being investigated for non-perturbative small molecule detection using customizable surface monolayers as partition layer to detect glucose and lactic acid in solution via gold nanoparticles, as well as investigation of nanoporous gold thin films as stable SERS substrate for gas-phase sensing.
Previous research experience includes working under Professor Kristina Trujillo as a staff research assistant in the University of New Mexico's Department of Biochemistry and Molecular Biology. The main project was investigating biomarkers for the recurrence in breast cancer in tissue margins, focusing on staining and image processing for the lab. Other duties including selecting appropriate tissue ductal structure from stored tissue blocks for tissue microarrays, cell culture for human surgical samples and stable human cell lines, and other microbiological techniques. Undergraduate research focused on investigating a quantitative field assay for capsaicin under Professor Murphy Brausel and the thermodynamic stability of DNA/RNA bulges under Professor Nina Grover at Colorado College.
Publications and Presentations
Vaughan, R.A., Garcia-Smith, R., Dorsey, J., Griffith, J. K., Bisoffi, M., Trujillo, K.A. Tumor necrosis factor alpha induces Warburg-like metabolism and is reversed by anti-inflammatory curcumin in breast epithelial cells. International Journal of Cancer. 133:10. 2013
Dorsey, J., Gupta, G., Artyushkhova, K., Shreve, A. "Characterization of nanoporous gold films formed by dealloying Au/Si." Poster presentation, 50th Anniversary of the New Mexico Branch of AVS, Albuquerque, New Mexico, 2014.
Dorsey, J., "Rockets and Light Bulbs- Developing Microenvironment Sensing Platforms." Nanodays, Albuquerque, New Mexico, April 2015.
Fellowships and Awards
 Cancer Nanoscience and Microsystems Training Center Fellowship

 Professional Science Masters for Nanoscience and Microsystems Engineering and Entrepreneurial Engineering, funded by the NSF

 GAANN fellowship, funded by the US Department of Education

 2015 UNM Elevator Pitch Competition winner with Jacqueline De Lora
Research Interests
Microenvironment sensing: SERS (nanoparticles and thin films), fluorescent nanomaterials, micromotors